---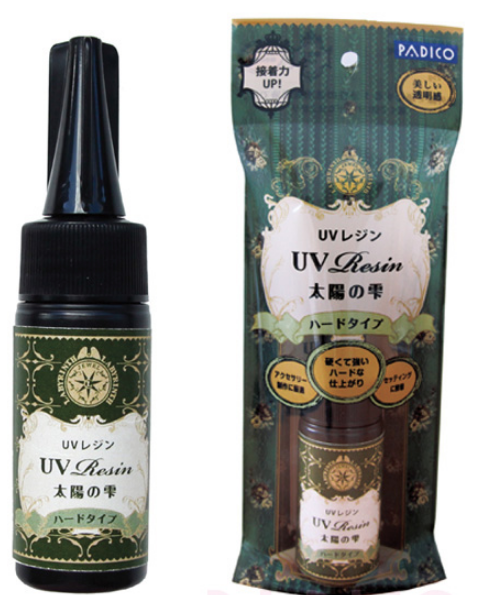 UV Resin Hard Type 25g
---
Padico UV Resin "Drops from the Sun" is transparent resin gel which cures when exposed to ultraviolet rays.
The resin has been improved in quality with high transparency and stronger adhesiveness. New Padico resin has three hardness:  Hard, Soft, and Gummy.  You can choose one suits for your piece.  
Padico resin is "ready for use", no mixing required.  Use just the amount you need without waste resin and time.  Padico resin gives a very clean, transparent look and has outstanding hardness properties.  
The hard type resin is suitable for accessories and metal fittings. 
Cured time  2 - 10 minutes with UV light (36w), 
10 - 30 minutes with sun rays on fine weather, 
30 - 60 minutes with sun rays on cloudy weather. 
Padico UV Resin Hard Type NET 25g
Ingredient: Acrylic resin 
Package size:  W80 x D30 X H190 mm 
No Fire. Use resin in a well-ventilated room.  Use gloves, glasses, and apron to protect the direct contact with skin, eyes and clothing. Do NOT left UV resin for a long time under the fluorescent light to avoid curing in air.  Proper storage temperature:  0- 25