---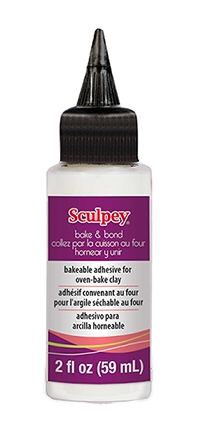 Sculpey Bake N Bond, 2 fl. oz. (59 ml)
---
Do you need to securely attach clay pieces together? Sculpey® Bake & Bond will deliver the strength and stick you need. This bakeable adhesive forms an incredibly strong bond between two pieces of polymer clay. Here's what's so special about it:
Bake & Bond will adhere raw clay to raw clay; raw clay to baked clay and baked clay to baked clay
It also can be used to adhere clay to porous materials
Polymer Clay pieces can be joined together with little pressure to prevent distortion of shapes and fine details.